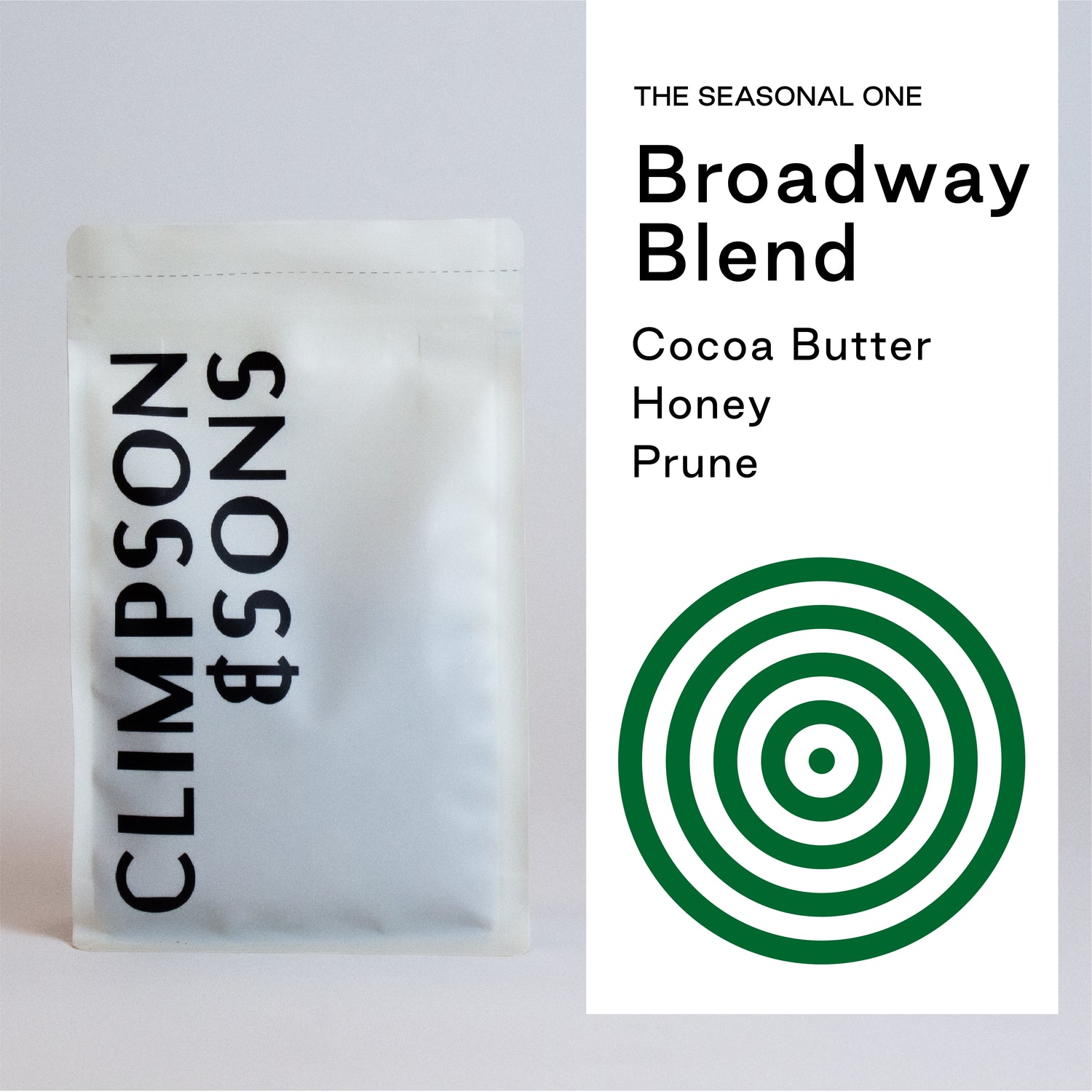 The Ultimate Blend
£10.00
Our Broadway Blend emphasises closer farm and import relationships with many of the same coffees selected each year for their unique representations of origin and terroir. The focus is on high quality, sustainable and complimentary coffees with the blend evolving with fresh harvest arrivals. This is our go-to espresso on Broadway Market and pairs perfectly with milk.

For our own neighbourhood's autumn blend we are working with two coffees from some of our longest standing relationships.

The return of Las Ranas is an annual highlight and marks the arrival of this year's Central American harvest. Set into the mountain range of Apaneca-Ilamatepec, Las Ranas is a small section of the sprawling Finca San Francisco complex. With their forest reserve and lagoon providing a home for thousands of frogs (Ranas in Spanish), the Las Ranas farm house is surrounded by immaculately maintained Bourbon and Pacas trees. Working alongside this delicate eco-system is a key to their overall quality and during the harvest coffee is all hand-picked by day before being delivered to the Las Cruces mill for processing each evening.

The other side of this blend comes Fazenda Esperança, run by the infamous Bruno de Souza, a true pioneer of Brazilian speciality coffee and one of our transparent partners in coffee sourcing. Situated near Campos Altos in the Cerrado Mineiro region, Fazenda Esperança is seen as an industry innovator in pushing forward separation of specific varieties and improving processing standards. Natural process lots are constantly monitored and dried on patios over 18 days. To ensure even and stable moisture content these coffees are moved up to 10 times a day and then heaped overnight to regulate consistency. Even the varieties of coffee grown here are unique to Brazil with Rubi developed by the Agronomic Institute of Campinas (IAC). This descends from Catuai and Mundo Novo bringing crisp sweetness, balance and a sustainable level of production.

Our ambition is to continue sourcing, roasting and crafting the finest coffees from the heart of East London.
Frequently Asked Questions
What date will my coffee be roasted?

We aim to ship our coffee as fresh as possible, however you may receive coffee roasted up to 7 days prior to the shipping date.

What grind type should I choose?

We offer multiple grind options from Cafetiere to Espresso and everything between. Our domestic espresso grind is slightly coarser and is perfect for home espresso machines, such as DeLonghi or Sage whereas the commercial espresso grind is better suited to commercial machines like La Marzocco or Sanremo. If you're not sure what grind to choose please get in touch with our team at admin@climpsonandsons to see how they can help. Remember, pre-ground coffee is not an exact science and is only one of many brewing variables. For better brewing, why not take a look at one of our brew guides here https://climpsonandsons.com/blogs/brew-guides.

Can I order 1kg of coffee?

This is not something we currently offer but why not consider helping us reduce packaging by ordering a 2kg bag instead? Wholebean coffee has a longer shelf life than you might think, up to 3 months!